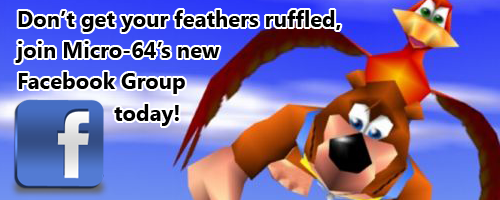 April 14 2014
Zelda fans, there's a somewhat new OOT hack for your Everdrive 64! I say somewhat new because it's been out for a month now, ooops. This new hack is known as "Petrie's Challenge" and it currently has 3 levels that are playable. You start out in the Forest Temple, then move to the Fire Temple, followed by the Water Temple. All temples have been completely changed. They play completely out of order to what you're used to and they're also much harder now. A video with the download link to the demo can be found here.
April 12 2014
Two new banners have been added to the rotation. Man, we sure do have a lot of them now. As usual I'm not telling you which two they are, but you'll see them on Micro-64 sooner or later. Or posibly even right now.
April 3rd 2014
Most people don't know it, but being the hero of time isn't all it's cracked up to be. Even the greatest heroes of Hyrule need something to keep their strength up. After many battles fought for this research, we here at Micro-64 have obtained ancient scrolls detailing a recipe to transform traditional Lon Lon Milk into an energy rich ice cream! Check out our article all about it here
March 19 2014
Converting Nintendo 64 ROMs to a different region can be a bit of a messy situation. Thank goodness we have S-Paladin. This tool is over 15 years old now and it finally has its own page on Micro-64. It should be a required download for PAL Everdrive users. Click here to see our page on the program.
March 16 2014
Super minor update today. Two patches have been added to the patches section. These include F-Zero X Fakestar Grand Prix, and a 007 The World is Not Enough patch. The first is yet another F-Zero X hack, but this one has tracks that were designed to be extremely difficult. It's brought to you by fzeroman. The second is a strange one. It allows you to watch 4 bots play against each other in splitscreen multiplayer in 007 The World is Not Enough. It's just a neat way of seeing how the AI works. I've also made an image of the awesomeness that is GoldenEye X. Click here to see it.
March 12 2014
A new version of GoldenEye X was released just a few hours ago. This project is brought you by the GoldenEye Vault. You can download the newest patch on their website or in our patches section. When you download it you'll find two different patches in the folder. For Everdrive users you'll want the patch with clouds and for emulators you'll want the cloudless patch. The reason for the two different patches is due to the clouds not really displaying properly in emulators. I really should do an article on this project one of these days.
We have also added another N64 reference in our N64 in TV article. This was in an episode of the show ER and it was spotted by kitsuneknight. Thanks very much for the submission! It's cool that the article got a few more 2014 additions, I figured I would have had them all by now. As always, if anyone spots anymore please let me know.
March 7 2014
I did a page ages ago on coloured N64 game cartridges. Just today I updated this page with new information from Acclaim documents that you've never heard before! Be sure to check it out.
March 3 2014
Consider this part 2 to my update on February 28. I have added even more patches to the patch page. This includes a patch for Rakugakids to make it work in NTSC, and a ton of F-Zero X patches. Any fan of F-Zero X should really consider picking up an Everdrive 64 as the F-Zero community has made tons of cool stuff for that game. I'm hoping to add even more F-Zero X stuff soon as well. Click here to see the patches page.
March 1 2014
Kicking off March, we have an entirely new kind of article to share with you. Did you know there were other consoles the N64 competed with? One of them was called the Sega Saturn. I had to look it up on Wikipedia, apparently it's real! In this article, we see which system is better, N64 or Saturn. Which has the best graphics, games or controllers? Find out in our latest feature.
February 28 2014
I've added 3 more patches to the patches page. Just in case you never saw this page before, it went up with the Everdrive article. The 3 patches that I've added are for Airboarder 64, Centre Court Tennis, and the Turok 2 Demo. For the Turok 2 Demo the patch restores the blood that Acclaim censored. I've tested it with the Talon, War Blade, Bow & Arrow, Pistol, Mag 60, Shotgun, and Shredder to find that enemies did indeed bleed. The other two games that I mentioned were released in Japan and the PAL region, but not the NTSC region. The patches that were added let you play the PAL versions on your NTSC Everdrive with no issues. It's not that the region lockout is hard to get around; it's that the different TV standards are a pain in the ass to work with. These patches allow you to play the game in the correct resolution at the correct speed and in colour. I'd like to get those other few PAL exclusives running in NTSC just like those 2 but it's not looking too easy to do right now. At least February is nearly over.
February 22 2014
About a year and a half ago I wrote a cool article on all the Nintendo 64 systems, games, and controllers that were in movies and TV shows. I've now gone back and updated that article with 2 new ones at the end. I also added a few more pictures for the Big Bang Theory part. Click here to see it. As always, let me know if you spot any more references.
February 17 2014
I went ahead and updated the Everdrive Wallpaper page. Just in case you didn't originally see this page, it was uploaded with the Everdrive 64 article and was put in the Database section. The original page had 37 wallpapers, and now it's up to 89. It's also now on 2 pages. Click here to view page 1. I'm pretty happy with how it turned out as I was able to find a crapload of more wallpapers. The only thing I don't like is the lack of any Beetle Adventure Racing wallpaper. There's two wallpapers for that game. I know they exist as I've definitely seen them before. I just can't for the life of me find them anywhere though. Oh well. Hope everyone is enjoying the Star Wars Proto release. If you haven't joined our Facebook Group then please do. It's a great place to keep up with Micro-64 as well as interact with oter N64 gamers.
February 13 2014
A while back I mentioned something really exciting coming. Well it's here! We now present you with another Nintendo 64 Prototype release! It's public and it's free to download. I am proud to say that it's an early version of Star Wars Shadows of the Empire. We have a nice page written up about it with the download right here. Please spread the word, N64 Proto releases don't happen very often and we'd love to see someone release one of their Protos too.
Also, we now have a facebook page for all Nintendo 64 fans. Click here to see it. It's to be a friendly community to discuss all things video game related, especially the N64. We'd love it if you joined.
Old updates can be found here.