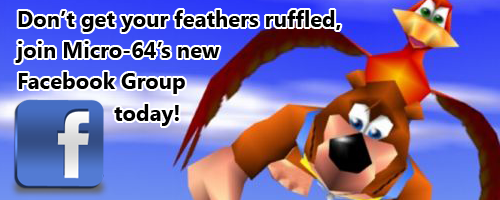 March 7 2014
I did a page ages ago on coloured N64 game cartridges. Just today I updated this page with new information from Acclaim documents that you've never heard before! Be sure to check it out.
March 3 2014
Consider this part 2 to my update on February 28. I have added even more patches to the patch page. This includes a patch for Rakugakids to make it work in NTSC, and a ton of F-Zero X patches. Any fan of F-Zero X should really consider picking up an Everdrive 64 as the F-Zero community has made tons of cool stuff for that game. I'm hoping to add even more F-Zero X stuff soon as well. Click here to see the patches page.
March 1 2014
Kicking off March, we have an entirely new kind of article to share with you. Did you know there were other consoles the N64 competed with? One of them was called the Sega Saturn. I had to look it up on Wikipedia, apparently it's real! In this article, we see which system is better, N64 or Saturn. Which has the best graphics, games or controllers? Find out in our latest feature.
February 28 2014
I've added 3 more patches to the patches page. Just in case you never saw this page before, it went up with the Everdrive article. The 3 patches that I've added are for Airboarder 64, Centre Court Tennis, and the Turok 2 Demo. For the Turok 2 Demo the patch restores the blood that Acclaim censored. I've tested it with the Talon, War Blade, Bow & Arrow, Pistol, Mag 60, Shotgun, and Shredder to find that enemies did indeed bleed. The other two games that I mentioned were released in Japan and the PAL region, but not the NTSC region. The patches that were added let you play the PAL versions on your NTSC Everdrive with no issues. It's not that the region lockout is hard to get around; it's that the different TV standards are a pain in the ass to work with. These patches allow you to play the game in the correct resolution at the correct speed and in colour. I'd like to get those other few PAL exclusives running in NTSC just like those 2 but it's not looking too easy to do right now. At least February is nearly over.
February 22 2014
About a year and a half ago I wrote a cool article on all the Nintendo 64 systems, games, and controllers that were in movies and TV shows. I've now gone back and updated that article with 2 new ones at the end. I also added a few more pictures for the Big Bang Theory part. Click here to see it. As always, let me know if you spot any more references.
February 17 2014
I went ahead and updated the Everdrive Wallpaper page. Just in case you didn't originally see this page, it was uploaded with the Everdrive 64 article and was put in the Database section. The original page had 37 wallpapers, and now it's up to 89. It's also now on 2 pages. Click here to view page 1. I'm pretty happy with how it turned out as I was able to find a crapload of more wallpapers. The only thing I don't like is the lack of any Beetle Adventure Racing wallpaper. There's two wallpapers for that game. I know they exist as I've definitely seen them before. I just can't for the life of me find them anywhere though. Oh well. Hope everyone is enjoying the Star Wars Proto release. If you haven't joined our Facebook Group then please do. It's a great place to keep up with Micro-64 as well as interact with oter N64 gamers.
February 13 2014
A while back I mentioned something really exciting coming. Well it's here! We now present you with another Nintendo 64 Prototype release! It's public and it's free to download. I am proud to say that it's an early version of Star Wars Shadows of the Empire. We have a nice page written up about it with the download right here. Please spread the word, N64 Proto releases don't happen very often and we'd love to see someone release one of their Protos too.
Also, we now have a facebook page for all Nintendo 64 fans. Click here to see it. It's to be a friendly community to discuss all things video game related, especially the N64. We'd love it if you joined.
February 4 2014
Time for another large article! This new one is actually the 3rd largest on this website with the Turok 2 Demo in first, and the Superman Prototype in second. Our newest page is called Everything and More about the Everdrive 64. It's the biggest resource there is for the Everdrive 64 on the internet. I tried to cover just about every topic possible for the device. I hope people find it helpful and that it might even make some people join the wonderful world of flashcarts!
Also, just a heads up for what's coming up in the future for Micro-64. Currently a couple friends of mine are working on another article. It's going to be real exciting when it gets released. There's also something truly special on the way from Micro-64. It's something new that you can't find anywhere else. Something that the N64 scene is going to love. Keep an eye out people! I'm hoping to have that ready for you in February, but if not then March.
January 16 2014
About 1 year ago a new Banjo-Kazooie level was released by some fans of the game. I'm not sure why I didn't write about it then, but I'm making up for it now. It's a great level and it really makes you wonder what else they might be able to do. This new page is live for you all to see right here.
December 24 2013
Another long article is being written at the moment. It's not ready yet, but I do have a Christmas poem for you instead. Let me take you back in time to Q4 2000. This was a time when the Nintendo 64 was dominating the video game holiday market. The PS2 system had lauched October 26th, and with Nintendo's next generation console not being ready yet, they decided to release their next big N64 adventure on the same day. That game was Zelda Majora's Mask. The popularity of the Zelda series, combined with a parts shortage limiting the number of PS2 systems on store shelves, caused Majora's Mask to sell more copies than any other PS2 game. Nintendo also released other major sellers around this time like Mickey's Speedway USA, Banjo-Tooie, and the Gameboy Pokemon Gold and Silver. Nintendo 64 systems were flying off store shelves. Sony was unable to compete with this and many developers who had bet on the PS2 reported losses. Competition from Sega also non-existant as their Dreamcast system had already began to falter.
To celebrate the success of the holiday season, Nintendo released this poem, which is known as The Slight Before Christmas -- Or, How Holiday 2000 Was Saved.
Twas the month before Christmas and all through the nation
Gamers gave up on that brand new Playstation;
The orders were stacked up at retail with care,
But the merchants all knew Sony wouldn't be there.
The players were nestled in front of their screens,
The pie-eyed young tots and the discouraged teens,
This promised to be one distraught holiday,
Without something new interactive to play.
When down at the mall there arose such a clatter
I leaped from my chair to see what was the matter.
And what to my wondering eyes should appear
But a sleigh full of thrills -- filled with Nintendo gear!
With a little old driver with presents in tow,
I knew in a moment -- my man, Mario!
A bundle of games he had draped on his back,
"If you want to save Christmas, just open this sack!"
With a wink of his eye and a pull at his `stache,
He answered my fears of a holiday crash,
One yellow and chubby, then a mouse, then an elf,
Then a bear and a bird -- and I cheered to myself.
"If your dream is adventure, then we're up to the task --
Our best Zelda ever, called Majora's Mask.
The country's best seller beginning day one,
Competitors just can't compete with this fun!"
"With Disney we're setting a blistering pace
As Mickey's Speedway USA leads the race.
Or how `bout the industry's first breakthrough brand?
Donkey Kong Country in the palm of your hand."
"And Banjo who soared with his partner Kazooie,
Take separate paths in a sequel called Tooie."
He had a kind face, and a look in his eyes
Then promised the ultimate retailer's prize.
"If Pokemon fun is your holiday choice,
Watch Pikachu leap in response to your voice.
And nothing before boasts performance this bold:
The hottest games ever -- Pokemon Silver and Gold!"
"Now Marrill, now Magmar, now Hoothoot and Staryu,
On Snubbull, on Snorlax, on Squirtle and Mewtwo!
To the top of the charts, to the top of the wall,
Now dash away, dash away, dash away all!"
Then he sprang to his sleigh, to his team gave a cheer,
"The real transition will happen next year!"
And I heard him exclaim as he drove out of sight,
"We said we'd save Christmas -- and Nintendo was right!"
Haha Nintendo sure was being cocky. Really though, seeing the old cartridge-based Nintendo 64 taking on next generation systems and win was amazing to see. It truly was a great time to be Nintendo 64 fan. On behalf of everyone here at micro-64 we wish you all a Merry Christmas! Updates are coming I promise.
October 23 2013
We tend to stick to N64 related material on this site, but did you know the Famicom turned 30 this year? Without our dear old NES, we might not have had an N64. In celebration of the big three-oh, we have a decidedly NES oriented article for you today. Don't worry, you still need your trusty N64... And a Gameshark Pro! Check out our latest feature, Neon64 on a Gameshark Pro, here.
September 18 2013
If you were ever a fan of the game Shadow Man, you might like this. The PC version of the game was just re-released for digital download yesterday by Gog. It runs on newer Operating Systems just fine and costs $5.99. Fans who purchase the game before the 24th will also get a digital copy of the Shadow Man comic book #1. Official page is here.
Oh and Micro-64 had five more banners added today.
September 17 2013
I think it's about time for a banner update. A total of six new banners have made their way into the rotation. Also a few minor corrections were made to some older ones. I'm not telling you which ones were added, just keep browsing the site and you'll find them.
August 31 2013
The weekend is here and I recently started a new job. I guess I'm going to start gearing up for another Prototype article. But which game to talk about one? More details on that later. Erm, today is also the 13th birthday of when Turok 3 shipped to retailers. Hoorah.
August 25 2013
Well I did the Turok 2 video again. I managed to show off the entire level and it's a minute longer than the last one. It has sound too. It can be viewed here. For some reason I was playing a bit worse than last time. I used up more ammo and lost more health. I must be losing the knack or something.
These ridiculously long rendering sessions are truly horrible. I ended up setting my computer up to upload the video to YouTube while I went to a party. I had a good time at said party, but on the way home I scared the crap out of myself and everyone in the car because there was a raccoon on the road and I had to stop for it. Damn thing just stopped in the middle of the road and starred back at my car. He probably had his life flash before his eyes or something. Glad I was able to stop in time and didn't squish him. Good to be back in one piece. Have a good day everyone.
August 24 2013
It's Saturday, hooray. I've been doing more YouTubing lately and have gotten another video up. This time it's the Turok 2 NFR. At 49 minutes it didn't take as long as Superman did to render and upload. I must've done something horribly wrong though, there's no sound! Damn it! The video can be viewed here for now, though I'm going to get it replaced with another one probably within the next 24 hours.
In other news, I've decided to expand Micro-64 in a unique way. We've always been your favorite Nintendo 64 fansite, but very soon we're going to be providing insurance too! UFO Abduction insurance to be exact. If you purchase our insurance and ever get abducted, we'll send a ship full of highly trained engineers and soldiers up to rescue you. Our rates start at just $8200/month! Rates do vary so please let us know your age, height, shoe size, blood type, and zodiac sign. Yes this offer is completely legitimate.
August 19 2013
Time for another update. I've made some minor edits to our Superman Beta article. Just a few tiny things I've noticed since I originally uploaded it. I've also made a video of Beta Superman in action. Yes, I finally got off my behind and filmed Beta Superman. It's just over an hour long and can be viewed here. That video took over 5 hours to render, 2 and a half hours to upload to Youtube, and than another half hour to process on Youtube. Man did that take a while!
Old updates can be found here.